What more can you ask for if you get all in one place – nature, leisure, transformation, adventure, water world experience, friendly weather, sumptuous food, elegant stay and comfort! Maldives is a name that counts for everything as refreshing as you can think of. Lie on a warm secluded beach or jump in the middle of the ocean – the choice is yours!
Maldives also offers you some of the world's best resorts to stay each designed in a way to provide you with a unique experience. Bandos is one such resort that keeps attracting more and more guests each year.
Located just 8 kilometers away from the Male airport, this resort looks like an island in itself. The elegant wooden décor in the middle of the nature makes this place even more ecstatic.
Each room has a T.V. facility along with mini bars and tea or coffee makers. There are outdoor hot tubs available too. The Spa is overloaded with varieties of beauty and massage treatments that will definitely take you to a different world altogether. You can have your favorite cuisine is any dining option of your choice.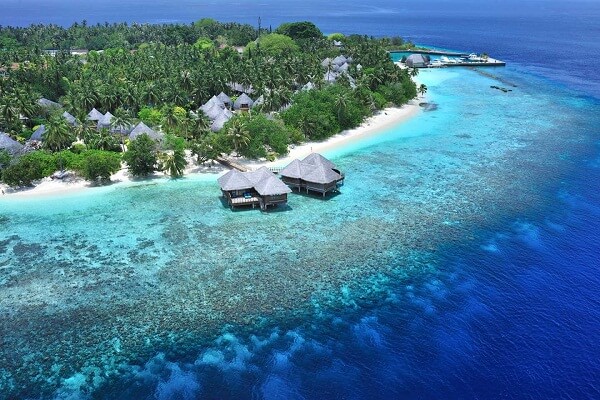 You can reach one of the world's best resorts, Bandos, using the following option(s):
Speedboat Transfer
You ride over the clear oceanic waters for about 15 minutes from the Male airport to reach this place. This is some experience!
The adults are charged approximately USD 94 per head for a round trip. This charge includes all the taxes.
Children aged between 2 and 11 years are charged around USD 47 per head for a round trip. This charge too includes all the taxes.
Infants up to 1 year of age enjoy a complimentary ride. There are no charges for them.
Make your reservation for villa and hut at this page.
All the guests must provide all the necessary flight details, including the arrival and departure schedule, to the reservation staff at least 72 hours prior to your arrival.
By Seaplane Transfer
Since the distance between the Male airport and the resort property can be covered in a span of about 15 minutes, there is no need for any seaplane transfer service. Hence this service is not available at the resort.
Article first published on February 17, 2020.
Related Articles
How to Reach Vilamendhoo Island Resort Maldives