Maldives is a place that sums up everything – luxury, adventure, marine world, water activities, coral life, theme parks, resorts, class and nature! You have it in your imagination and Maldives brings it to you!
One of the finest resorts Grand Park Kodhipparu has stored all the adventure and luxury that you can think of. This resort is situated in North Male Atoll. The resort is also family-friendly as it has a lot of children's activities to keep the kids engaged while you enjoy all the luxury and space. The aerial view of this resort makes it look like a snake.
How to Get to Grand Park Kodhipparu Maldives
There is only one way to reach this resort and that is via a speedboat that keeps shuttling between the Male International airport or the Velana International airport and the resort.
You can check our reservation link for easy bookings of an overwater bungalow at Grand Park Kodhipparu Maldives and get huge discount.
By Speedboat Transfer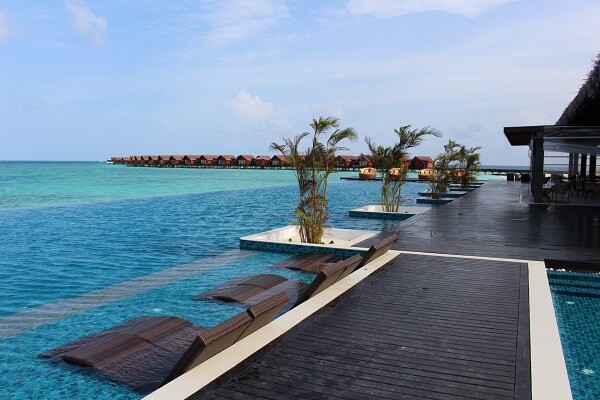 You can reach this resort in a speedboat in 20 minutes from Velana International airport. From Male International airport too it takes about 20 minutes in a speedboat to reach this resort. Either way the resort is about 20 minutes away from these two international airports.
The round trip charges are as follows:
Adults are charged USD 180 which is inclusive of all the taxes.
Children between 3 years and 12 years are charged USD 90 which is inclusive of all the taxes.
Infants below 3 years of age can enjoy a complimentary speedboat ride.
The resort guests must share the flight arrival and departure details at least 48 hours prior to the date of arrival. Speedboat transfer by the resort is compulsory as the resort does not entertain any external boat transfer.
It is always advisable that you check all the necessary terms and conditions of booking a speedboat ride while doing your room booking. There may be certain questions related to the baggage and/or other options that you want to know. Just call the resort staff and clarify all the details with them.
About Grand Park Kodhipparu Maldives
The property surroundings have a lot of things such as a National Museum, Sultan Park, Henveiru Park and many other places to visit. And yes, if you are a die-hard fan of football, you can catch a glimpse of the local football matches in the National Football Stadium which is approximately 18 kilometers away from the resort.
Related Articles
How to Get to Pullman Maldives
Article first published on June 13, 2020.