Christmas is the time when you think about spending some quality time with your family and friends. You don't want to compromise on the most beautiful island destinations for Christmas holiday.
There are places when you think of comfort, luxury, nature, peace, and adventure. Just take a look at this quick guide below.
Top 10 Island Destinations Around the World for Christmas Celebrations

Bali, Indonesia
Choose Bali to replace your idea of white Christmas with bright Christmas. From simply being lazy to doing Yoga or spending some time with the local community to partying harder with your family or friends, Bali has it all.
Being one of the top 10 best island destinations for Christmas, it is here where your eyes get dazzled with the spectacular firework on a beach and hunger gets satiated with the most delicious Balinese festive meals.
Goa, India
Goa, in India, is one of the most enjoyable top 10 island destinations around the world for Christmas celebrations. With pleasant weather during this season, you can wear any costume of your choice to get into the spirit of Christmas. Goa is a carnival in itself with every corner decorated with lights.
Thousands of tourists attend midnight mass, enjoy firework shows; shop for their loved ones in local markets, shake hips in Christmas dance parties, taste lip-smacking special local Christmas cuisines, get on a Mandovi river cruise, and play a part in many traditional Christmas rituals.
Boracay Island, Philippines
If you are planning to revise your plan of Christmas celebration on island destinations, Boracay is a better choice. Wrap around in the arms of nature with peaceful sight-seeing and enjoy a day stretch on one of the beaches of this place.
Rejuvenate your Christmas spirit with luxury and comfort in the most beautiful 5-star resorts of Boracay. Exchange gifts, taste sumptuous Christmas buffets and celebrate family bonding with kids by exploring new traditions and styles.
Cancun, Mexico
Well, if you are thinking of beautifully decorated streets, parks and shopping markets, Cancun can be regarded as one of the most beautiful island destinations for Christmas holiday. Celebrate Christmas in a traditional way called the 'Posadas' or by hitting 'Pinatas', which is enjoyed mostly by kids.
Cancun is no exception to Christmas celebration when it comes to colorful street decoration. Experience the most vibrant Christmas by dining with your family in comfortable restaurants or trying new cocktail flavors with your friends in nightclubs or local bars.
Phuket, Thailand
Phuket, in Thailand, is one of the 10 best island destinations for Christmas as unlike any other island; this place has a lot to offer at affordable prices. There are attractive beaches boosting your festive spirit with an extensive range of water activities including diving, parasailing, surfing, snorkeling, kayaking and stand-up paddling.
Foot-tapping music, carols, Santa's visit, and exotic lunches and dinners keep you excited even more. Revitalize in luxurious Spas so you can enjoy the festive spirit to the fullest.
Montego Bay, Jamaica
The Montego Bay fills up all the vacuum of your Christmas plan. Enjoying outdoor activities in Dunn's River Falls, snorkeling and cruising at the same time, trailing through the national parks, walking through the beautiful gardens and adding more thrill and excitement with the Rose Hall Great haunted house tour – Montego offers all to mesmerize your stay for Christmas eve!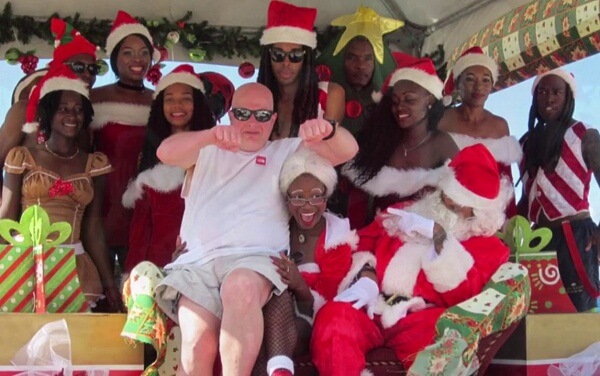 Maldives
What to expect when planning to celebrate Christmas in Maldives, one of the top 10 island destinations for Christmas celebrations with families. Snow escaping weather giving you total enjoyment on the golden sands is one of the prime reasons why you should choose this place for Christmas.
Maldives offers you with a beautiful beachside massage, scuba diving, safari, sumptuous Christmas dinners, stunning decorations and an enriching traditional Christmas experience. Don't forget to try Garudhiya (a popular fish broth) and Fihunu while trying some authentic local Maldivian cuisines.
Singapore
No doubt, Singapore is the only place that enlivens your plan of Christmas celebration on island destinations. Christmas is a very big event in this multi-racial metropolitan place and people plan for the best shopping and dining places for Christmas well in advance. Orchard Road, the famous shopping place, gets overloaded with multiple things hence igniting your shopping spirit.
The Yuletide menus fit all taste buds with the most exotic and authentic cuisines for Christmas. The streets across the country are decked up with the most stunning decorations. There are mind-boggling fireworks at every nook and corner of this place illuminating the skies wide around.
Mauritius
Christmas in Mauritius brings a delight full of tropical fruits such as lychees, pineapples, mangoes, longan and watermelons. Normally, towns are jam-packed with traffic and crowd from different parts of the world.
The Christmas time involves peak hours of shopping, astounding firecrackers and fireworks, varieties of super delicious cuisines, family togetherness, music and parties, and much more.
Hawaii, USA
Get rid of the snow-chilled Christmas celebration by moving to one of the top 10 island destinations for Christmas celebrations with families, Hawaii. Book beautiful resorts in advance to avoid the last minute compromise during Christmas season.
Alike other island destinations, even this place has everything from snorkeling to sea surfing, festive dining to fireworks, relaxing with family on a sunny beach to partying with friends and nature park visits to sight-seeing.
Article Title: 10 Best Island Destinations for Christmas Celebrations with Families
Article first published on August 29, 2019.